Editor's Note: This article was originally published on March 5, 2018.
Evelyn Scott spent years dreaming, planning and saving for her next career move after she retired from the United States Navy. She was going to own a 7-Eleven franchise.
All of her hard work and diligence paid off in the grand opening of her store, No. 38164, in Norfolk, Virginia last December. Regardless of winning her store through the 7-Eleven Women's Franchise Giveaway Contest, her preparation meant she would have earned her keys anyway.
Having the $190,000 franchise fee waived was an added perk to joining her new team. But it wasn't something that she was counting on when she decided to become her own boss. The logistical skills and leadership qualities she developed while working her way up the ranks in the Navy counted more towards her success.
"The success, it's through hard work. Be yourself, treat people right and be fair to everybody," Evelyn told WorkingNation. "Sometimes you need to be patient too. You work hard now and I know someday that it will pay off."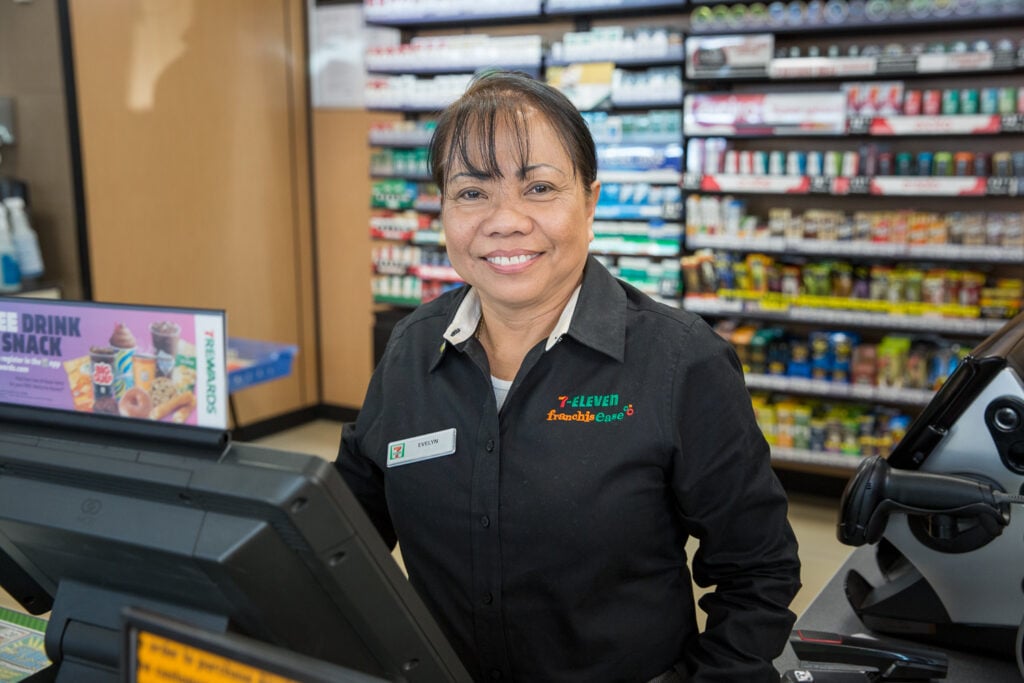 Joining a winning team
In addition to being a top worldwide franchisor, 7-Eleven has been named one of the best franchising systems for veterans by Victory Media and the Military Times.
7-Eleven CEO and President Joe DePinto, a veteran himself, said that veterans are a natural fit for the company. The skills they acquire in the military world — organizational skills, people skills, and unyielding work ethic — are representative of what drives success within the company.
To help service members, like Evelyn, transition into a new career as franchise owners, 7-Eleven offers veterans a 20 percent discount on its franchise fee and other perks when they pursue a franchise opportunity.
In 2015, 7-Eleven created the Veteran Franchise Giveaway Contest, Operation: Take Command. According to Larry Hughes, 7-Eleven's Vice President of Franchise Systems, the contest helps spread awareness of the franchise system for veterans, but there was another opportunity to make a larger impact. "We believe that there is an untapped resource in terms of franchise ownership, and that's women franchise owners."
Entrepreneur reports the number of women franchise owners grew by 83 percent between 2011 and 2017. However, only 27 percent of franchises are owned and operated by women, according to the International Franchise Association.
To spur more interest in women to consider franchising their own store, 7-Eleven launched the Women's Franchise Giveaway Contest last year. Out of the nearly 1,000 applicants, Evelyn was selected as one of the 25 semi-finalists.
A new adventure
Evelyn's new career was 30 years in the making. At 28, she joined the Navy, seven years after emigrating to the U.S. from The Philippines. She served alongside sailors who were a decade younger than her and didn't share the same experiences and backgrounds.
The things that set her apart — her strong accent and being a female in the male-dominated military world — made her work harder. Her dedication to service and improving herself led her to become the first Filipino-American woman to become a command master chief.
"She was amazingly successful. She made master chief in like 17 years, which is kind of unheard of," said Evelyn's fiancé Shawn Smalfus.
After 25 years in the Navy, Evelyn gave herself a five-year window to explore what she would do when she was retired in 2017. She knew that she wanted to be her own boss and spend more time with her family. Seeing one of the largest retailers in the world while deployed made a major impact on her future decision.
"In Dubai, I see 7-Eleven," Evelyn said. "It makes me excited because I know there's a Slurpee in there. It's a comforting feeling just to see a familiar brand that back home is just in your backyard."
It was that familiarity that signaled to Evelyn that their franchise system would work for her in her next career. Seeing the stores abroad and at home drove the message that whatever 7-Eleven was doing to continue to grow its brand worldwide was working.
She dug into the application process and, when she returned from overseas, spent her time going to her local 7-Eleven stores befriending franchise owners and attending 7-Eleven's franchising webinars. It gave her a complete picture of the partnership the company has with its franchisees.
Evelyn discovered how similar the franchising world mirrored her military experience. "The military is very structured. Before they send you to a job, they train you because they want you to succeed. They give you all the tools to be successful, and I feel like 7-Eleven is the same thing."
Hughes, a military veteran himself, said that 7-Eleven's structured franchising system prepares new owners for every eventuality.
"This is very similar to the military — their processes, their SOP's [standard operating procedures]. We have processes as well," said Hughes. "We have found that the most successful franchises really put their arms around the entire business system and really execute the entire business system at a high level."
The training and support Evelyn received before her grand opening wouldn't guarantee her success. There would be long hours and the challenge of building a team to run the store. However, she was reassured 7-Eleven would be behind her to provide continuous support to turn her dream into reality.
"I was telling my daughter that I think I'm going to love this. And in the near future, I would like to have another one," Evelyn said.
She began saving for the franchise fee and started assembling the team that would support her at her store and at home, which included her daughter, Cheryl. The two had previously worked together at Cheryl's 99-cent store. Whenever Evelyn returned from deployment, she would help her daughter make the store more profitable.
Joining her was Evelyn's 87-year-old mother, Gertrudes Agaloos. The family matriarch had helped raise Evelyn's kids and foster kids during Evelyn's deployments. She would continue this work helping care for her great-granddaughter while Evelyn and Cheryl worked.
Now with all four generations on the East Coast, Evelyn had everything planned out to create a lasting legacy for her family.
It all went to plan. But entering the first 7-Eleven Women's Franchise Giveaway Contest would present a final challenge and Evelyn's teammates past and present would unite to push her to victory.
Winning her store
Once Evelyn was named a semi-finalist she then had to submit a short video to 7-Eleven explaining why she would make a great franchise owner. She aced the initial phases and was one of the seven finalists for an online vote last June.
7-Eleven produced a video for each finalist detailing their life story and let Facebook users select the top-three.
Cheryl said her mom didn't believe she had enough online influence to win the Facebook online vote. It turned out the influence Evelyn had on the lives of her former shipmates, her friends, and family would get out the votes for her.
"She said she didn't have that many friends on Facebook. I said, 'That's what you have us kids here for,' Cheryl said.
At home, Smalfus helped Evelyn reach out to the people she worked with while in the Navy, some of whom they had lost touch with.
"When we went through this whole contest and we contacted people we knew 20 years ago [we learned] where they are now. You want to evaluate a leader, look at the people they lead. The people who've been working for Evelyn for the past 20, 30 years are very successful themselves," Smalfus said.
Evelyn's story also made the local news, which also helped boost her chances to win. Cheryl said that despite being a leading vote-getter, the stress of the contest still weighed heavily on her mom.
"I mean, it was just stressful. I think she lost 10 pounds that week. She was stressing, yeah," Cheryl said. But the vote tally still climbed in her favor and when the voting period concluded in early July, Evelyn was securely in the top-three.
Evelyn, along with fellow finalists Alyson Rae Lawson and Avalon Young, traveled to 7-Eleven's headquarters in Irving, Texas for their final job interview. They had to demonstrate how they would build their store's team and add to the success of the franchise model. Then they met with 7-Eleven CEO DePinto, who would be instrumental in selecting the final winner.
In a twist to the contest rules, DePinto awarded all three their own franchise based on their overall quality and leadership skills they possessed.
A grand opening
The opening of Evelyn's store on Boush Street in Downtown Norfolk came with the fanfare befitting the culmination of the Women's Franchise Giveaway Contest.
A Slurpee mascot was there to be hugged. Free samples were doled out to customers and Evelyn helped cut the ceremonial ribbon with the help of 7-Eleven's corporate representatives. Evelyn's family and friends traveled from out of town for the party.
"When they handed me the keys to my new store, it's such a great feeling," said Evelyn. "Now I could run my own business. I could be my own boss. It's such an exciting feeling. I could feel this is the future, the future for my family."
The event was also a celebration of the community. One of the contest stipulations was that Evelyn could choose an organization to receive a donation from 7-Eleven's Project A-Game initiative. Evelyn chose Oscar Smith Middle School in Chesapeake for the $10,000 donation. 7-Eleven also made a $711 donation to Maury High School in Norfolk.
"Giving back to the community means a lot to me. Connecting with them, supporting them, just like I supported my people in the military," Evelyn said. "I would like to build that relationship now that I am part of [the] community."
Living the dream
Following the grand opening, Evelyn got down to the real work of operating her own store. For the first month, she said she worked with a 7-Eleven field manager training on store operations. Whenever she runs into a difficult situation, Evelyn calls her point of contact with 7-Eleven, Angelina Spielman, who she said serves as her "angel."
"You can always call 7-Eleven about anything. I was so nervous to do my finances. She walked me through step-by-step how to read my reports. She's been a blessing," Evelyn said.
Evelyn said that the hard work has been worthwhile for how it will keep her close to her family, unlike her former career that kept her away for months on end.
"It's very fulfilling seeing my store full of people. I know that I put in way more hours, running my own business," Evelyn said. "But you know what? I don't deploy. I go home every day."
Opening her own franchise has been a beacon for Evelyn's family. They visit her on Sundays; her brother Danilo is planning to move to Virginia to work with Evelyn, and her son David, an Army veteran, is considering opening his own store in nearby Suffolk.
Her granddaughter Lilah, 6, has pitched too. The store is "like a second home" to her and she'll finish her homework in the back office and then pick up a mop–which is bigger than her–and get to work. Evelyn said that a customer noticed her mopping skills and gave the young girl a dollar.
Just like her own family and friends rallying behind Evelyn to support her dream, 7-Eleven has become part of her family too. The company is ready at a moment's notice to help her secure her legacy.
"I'm living the dream," said Evelyn. "I'm getting all of the support that I need from 7-Eleven," Evelyn said. "You're not alone, that's a good thing about this. They're always there when you need help."