Thirty-eight-year-old Samuel Muraguri was an entrepreneur in his home country of Kenya before moving to the Seattle area to join his mother who had emigrated more than a decade ahead of him. Now, four years after making that move, he is an entrepreneur again, and he says he owes it to his first employer in the United States, Amazon.
Shortly after arriving in the U.S. in 2016, Muraguri started working as a warehouse associate and held different internal roles, from packing to inventory. After hearing co-workers discussing some of the education benefits available to them, he enrolled in its Career Choice program to obtain a commercial driver's license.
"I was new to this country. I did not know where to start. I had these people behind me, paying my school fees, encouraging me, working with me, giving me a flexible schedule to make sure I can still go to school and still come to work," Muraguri tells WorkingNation.
Once he got the CDL, Muraguri left Amazon to work for a Seattle business that hauls cars at a higher pay and benefits. He also used knowledge he gained in the Amazon warehouse to start his own business, Upendo Coffee.
"I credit them for not only the CDL, but also my business. I learned what fulfillment is. I learned how products come and go. I learned to set goals, then achieve them. I credit Amazon for who I am right now and where I am."
How It Works
Career Choice is an education benefit that focuses on upskilling frontline associates for new roles beyond Amazon. Now in its eighth year, the program is active in 14 countries and has assisted more than 40,000 workers.
"It was really focused on removing barriers. Then, as we've grown and developed and matured as a program, we realized that we didn't want to just fund education for education's sake and that we really wanted to focus on skills development and education that led to a job and career," according to Tammy Thieman, senior program manager for Career Choice.
"We really look for a job that's going to help somebody take the next step above and beyond where they currently are with Amazon. We really want our associates to be good consumers of their education and understand that the first step is not the last step as they think about their career."
The company pays up to 95% of tuition and fees toward a certificate or diploma in 20 fields that lead to in-demand jobs as nurses, computer support specialists, aircraft mechanics, IT security assistants, and commercial truckers. "We really start with the job in mind. We use government data, Burning Glass in the United States, and Gartner TalentNeuron outside the U.S. to determine what are those true in-demand roles," she explains.
The role must meet five characteristics in order for Amazon to include it in its tuition program:
It pays more than Amazon's minimum wage
It can be achieved with an associate's degree or less
There is a strong career trajectory beyond the initial role
The role doesn't demand a huge amount of experience to get it
There is high demand for the role in the local marketplace
"We've worked really hard to develop employer partners who are interested in hiring from the programs that we've developed or that we've worked with (local) schools to develop."
Adjusting for the Impact of the Pandemic
Each year, Amazon looks at all the variables and adjusts its program offerings accordingly.
"We have five broad fields of study that we offer roles within, health care being one, which obviously is still very, very relevant. Also the IT industry. With everyone moving to virtual platforms, those are still very relevant, if not more relevant in terms of roles," says Thieman. The other three are advanced manufacturing and skilled trades, transportation, and business and administration services.
Who Are Employers Looking to Hire?
Thieman stresses the importance of working with local training providers when determining the in-demand roles. "It's tough to completely localize it by city, but certainly there are lots of examples in which we offer roles in some locations where we don't offer them in others because they're not relevant."
"A lot of that is driven by our employer partnerships. We've worked really hard to develop employer partners who are interested in hiring from the programs that we've developed or that we've worked with these schools to develop," explains Thieman. "Along with staffing agencies, we have partnerships as well. We really work to drive those pipelines where there's interest from our employer partners and our staffing agencies."
Thieman adds, "Community college partners are another big component of what we do here in the United States. We've got online universities and some national universities."
Options for Education Delivery
In order for workers to participate in Career Choice, Amazon offers several different ways to obtain learning. Thieman explains, "We began building classrooms directly in our fulfillment centers, our warehouses, so that somebody could go to work, not have to worry about another commute, clock out of work, and then go directly to the classroom."
Online learning is another option, says Thieman. "We know that some folks do better there. They've got to get home. They don't have childcare. But they want the flexibility of being able to not have to go to a campus."
A third option is in-person learning. Thieman says, "You want to be in a health care program at the local community college, and you want to go on Tuesdays and Thursday nights, and that works with your work schedule. That's the third modality, which we call offsite."
A Good Option in Career Choice
Thieman says high school graduates might consider the Amazon program as they navigate their next chapter. "I really liken this to when folks are coming out of high school, they have options. 'Hey, I can't afford to go to school for whatever reason. I can go into the military.' I'm a fan of that."
"But I very much would like it to be, 'Hey, I could go to Amazon, and I can get my education because I know that when I go to Amazon, I can build a career there'. I think this also serves as a recruiting tool for folks who are thinking about the next steps in their career, knowing that when they come here, they can build a career with us."
Samuel's Journey
Thieman says Muraguri's path has been deliberate and thoughtful. "Samuel's story is so exciting to us because he said, 'Okay, I'm going to leverage the opportunity I have through Amazon to now go get a certification that's going to help me take my next step in my career.'"
"But ultimately, that step was not his last step. It was just another steppingstone to get to where he really wants to be, which is entrepreneurship in roasting coffee," says Thieman.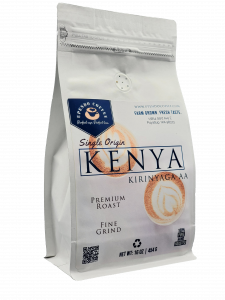 "I would say to anyone that is not even sure what they want to do with their career, 'Amazon is a right step in the right direction. There's opportunity to grow,'" says Muraguri.
"I think is important for everybody, because we all want to grow in any job, anything that you're doing. You want to grow and they give you the opportunity to do that."
Muraguri's explains that "upendo" – the name of his company – means "love" in Swahili. "One of the things that I noticed over here, people love coffee and I come from a country that grows coffee. If I was able to bridge the gap between our farmers from back home and the consumers here, and give them the same love that we give to our coffee, I'll just call it love."
Muraguri's story has come full circle. Upendo Coffee is available on Amazon.