December 10, 2020 Update: Additional hiring and training are underway at a Southern California electric vehicle manufacturing plant, as Proterra announces its new EV battery production line. Increased output of the battery packs will help the Los Angeles County-based company meet demands brought on by its manufacturing of electric commercial vehicles and buses.
The new battery production is generating 30 new jobs, 25 of which will be held by members of USW Local 675. Proterra says production is operational now and it will add additional work shifts when needed.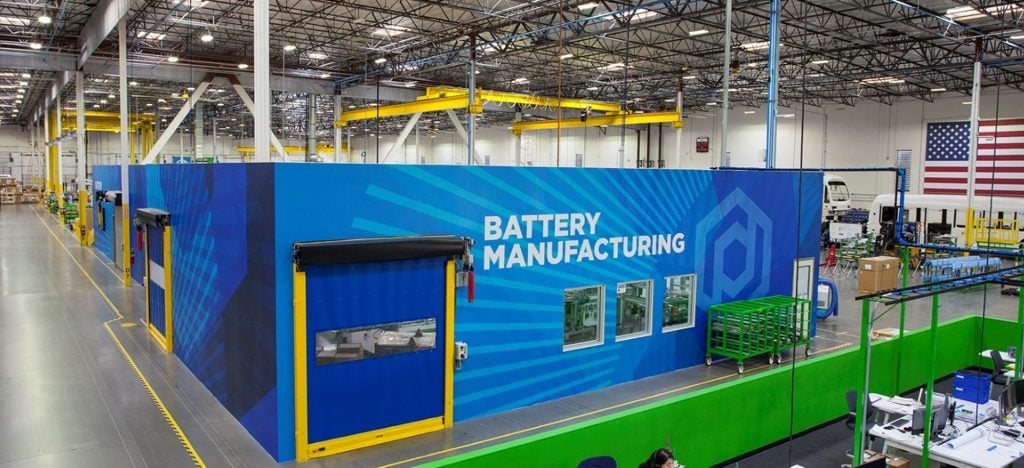 "Proterra furthers our commitment to the City of Industry and Los Angeles County as we bring more advanced manufacturing jobs to California," announces Proterra CEO Jack Allen in a statement. Allen adds that the battery technology has been proven in 16 million miles driven by Proterra's fleet of buses.
In October, Proterra, in partnership with Citrus College, launched its first advanced electric bus assembly line technician training. That 15-member cohort will complete their training and graduate next month.
According to Los Angeles County Workforce Development, Aging and Community Services (WDACS), four have been hired by Proterra, while two are incumbent Proterra workers. The remaining nine trainees are currently receiving job placement services to connect them to industry employment.
Read more about the technician training program in the story below, originally published in October.
___
One Los Angeles area program is getting trainees ready to build electric buses. A partnership among a number of entities, including Citrus College in Glendora, California and Proterra, has produced a nine-week program Electric Bus Manufacturing Technology designed to get participants jobs in the EV workforce.
"We're the only U.S. manufacturer that builds an electric transit bus from the ground up to be electric. We also have fully integrated our battery technology," explains JoAnn Covington, chief legal officer and head of government relations for Proterra.
"There's a real emphasis on short-term training to help get people retrained and back on their feet. The easiest way to do that is actually through continuing education, in noncredit, where we can develop these really quick training modules, and get people trained up on some basic skills to be able to go out and get a job pretty quickly," according to Michael Wangler, dean of career, technical, and continuing education at Citrus College.
He adds, "Another opportunity is in contract education, which the Proterra project is really in that bucket, where we contract with an outside industry or agency to offer customized curriculum. And that's what we've built with Proterra, curriculum that is going to meet their needs for employees to work at their facility."
The collaboration between Proterra and Citrus College is a good fit, according to Mariano Rubio, an automotive, medium/heavy duty truck and power generation instructor at the school. "Because it's a bus company, it aligned a lot with our already-existing heavy truck program."
The inaugural training with 15 students kicked off this month at Proterra's manufacturing facility in the City of Industry. Upon completion of the program, students will have the skills to work as electric bus assembly line technicians, along with seven certificates. Among those are third-party certificates from Snap-on Tools, Safety Pollution Prevention, and CDX (which focuses on soft skills).
Covington notes that Proterra would like to recruit students who haven't typically entered into the manufacturing industry. "When we're sourcing applicants for this training, we're really trying to reach non-traditional manufacturing workers. We're trying to involve more women. We're trying to reach out to aging foster youth, formerly incarcerated individuals, communities of color, and youth who aren't really ready for college and are not sure what they want to do. Show them that you can have a career in manufacturing."
When designing the curriculum, a goal for Rubio and the other instructors was to make the learning hands-on. "A lot of times we want to just stand in front of a classroom doing the traditional training. Stand in front of a room, present with the presentation, and then call it a day. But we've seen, just with our own instruction, that it's a lot better for us, for trainees, and students to actually do something with their hands."
"Our goal was to develop a program where floor workers would have a fundamental base knowledge of the process of what they're doing. For example, if they're torqueing something, what's the proper technique to torque? If they're checking an electrical wire, what is the proper technique to check the electrical wire? Not only can they be more efficient in assembly, but they can also spot problems on the floor so that they can right away let someone know and call it out before it goes further into production."
Earlier this year, the city of Los Angeles announced a step to lower emissions and reduce air pollution. The city has ordered 155 electric buses and plans to convert its bus fleet to emissions-free vehicles by 2028 when it hosts the Olympics and Paralympics. Los Angeles is not the only city investing in emissions-free vehicles, according to a joint report from U.S. PIRG Education Fund, Environment America Research & Policy Center, and Frontier Group.
"If you just think about your major transit agencies that are going electric now and are committed to doing it by 2030, 2035 — whether it's in Chicago, D.C., L.A., Sacramento, wherever – collectively, that's thousands and thousands of buses in just a few short years," says Wangler.
Rubio says that green jobs and electric vehicle technology are not going away. "This opens up the door to possible future opportunities for assembly line training. This is an opportunity to make sure that we have a well-prepared workforce for that," adds Rubio.
As Proterra determines its shift schedules, the goal is for the new technicians to land jobs with the manufacturer, according to Rubio. Students who complete the electric bus training program are eligible for positions with a starting $21 hourly rate.
"We started in 2017 building the bus with the leadership team. Since then we've grown our [City of Industry] factory to over 130 people. Sixty-five or so of those are represented by United Steelworkers Local 675 in our production. And we've been building and hiring throughout COVID," says Covington.
Prior to COVID-19, the Los Angeles Economic Development Corporation (LAEDC) estimated that electric vehicle-related jobs will grow by 27.8% between 2018 and 2023 to 152,000 in southern California.  And for the state as whole, EV-related job projections were estimated at 312,000. Covington points out, "Every dollar spent on manufacturing adds $2.74 to the economy."
Wangler notes that as bus fleets convert to electric vehicles, there will be more need for technicians to provide maintenance. He says current technicians can easily pivot into those positions with just a bit of upskilling. "A lot of the existing technicians can be retrained because electrical is electrical. If you're a diesel mechanic, it's not that much more to be able to transition over to the electrical system throughout the entire bus. There's a lot of electrical in a bus as it is, even a diesel-powered bus or a natural gas-powered bus."
"You just kind of shift over to the engine components, a little bit of retraining there. And that's part of where we see other opportunities for short-term training to help transit agencies, not just train new people, but to get their current employees up to speed," says Wangler.
Covington points out that two of the students participating in the first cohort training are already Proterra employees. "We designed the curriculum and when it was offered to enable our employees to attend that training. So we're very much looking forward to their feedback, and relating that to the job that they're doing every day, so we can continue to refine what we offer."
"We're also committed to working on apprenticeship and pre-apprenticeship programs for incumbent workers," adds Covington.
"One of the things that we're very proud of and that we implement as part of the Proterra culture is constant learning and innovation," Covington continues. Employees are encouraged to share ideas for workplace improvement. Ideas are reviewed by management within 48 hours and feedback is given as to whether or not the company is going to move forward with the suggestion.
Covington says employees post their ideas on a large bulletin board at the start of the production line at the manufacturing facility. "It's a very public process that everyone sees. Things just don't go into a black hole. I think that's very important because ideas feed on other ideas and that's where true innovation happens."