WorkingNation's "Cracking the Code: A Town Hall Event on Bridging the Cybersecurity Skills Gap" is dedicated to a visionary computer scientist who was taken before his time at age 31 during the deadly 9/11 terrorist attacks. Daniel "Danny" Lewin, the co-founder of Akamai Technologies, was to WorkingNation Founder and CEO Art Bilger "the most remarkable" person he has ever met.
Without Lewin's pioneering work in the late 1990s and the company he created with Akamai CEO Tom Leighton, the internet as we know it today may have evolved along a different course. Akamai since then has grown into a multibillion-dollar company dedicated to making the internet "fast, reliable and secure" and is responsible for handling almost one-third of global internet traffic.
Bilger remembers Lewin as the first person to introduce him to the revolutionary potential of the internet when he visited the fledgling company in 1998.
"It was during that meeting that Danny was going to show me how the company he co-founded, Akamai Technologies, was going to speed up the internet and how computer technology was going to dramatically change the world we live in," says Bilger.
Before the meeting that would change Bilger's life, Lewin had already achieved more in his youth than many in his generation. According to a 2017 New York Daily News op-ed article written by his best friend Marco Greenberg, Lewin's life was one "worth remembering and emulating."
Lewin, born in Colorado and raised in Israel, worked tirelessly to improve his mind and his body, according to this 2013 CNN profile. By the time he and his family moved to Israel when he was 14, Lewin was already on his way to becoming a preeminent computer programmer and mathematician through self-taught instruction.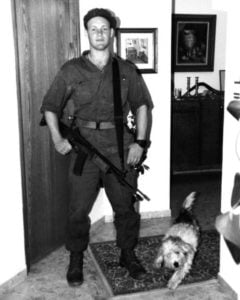 While in Israel, Lewin continued his academic studies while developing his physical attributes and his ideology. This led him to join the Israel Defense Forces and become an officer with the elite IDF unit Sayeret Maktal, where he dutifully served his country for four years.
"When arrogant Israeli machos told him that there was no way a stocky American immigrant like himself, raised in the comfort of suburbia, would ever make it to the IDF's most sought-after outfit, he trained hard and proved them wrong," Greenberg wrote.
Within this period, Lewin met and married his wife Anne and became a father to his first son Eitan. He concluded his military service when he enrolled at the Technion-Israel Institute of Technology where he graduated summa cum laude with double bachelor's degrees. He also worked with IBM in Haifa where he was responsible for developing a processor verification system for IBM called Genesys.
He continued his studies at the Massachusetts Institute of Technology where he studied under MIT professor and eventual business partner Leighton. Lewin rose to the challenge when the man responsible for creating the World Wide Web, Tim Berners-Lee, issued a challenge to speed up content delivery over the then-fragile internet infrastructure.
At MIT he developed the algorithms that are the fundamental technology which helped Akamai become an overnight success story and eventual worldwide leader. He earned his master's degree and was recognized for his brilliance with the 1998 Morris Joseph Lewin Award for Best Masterworks Thesis Presentation.
WorkingNation CEO Bilger invested in the startup created by Lewin and Leighton in the late 1990s as it rode the tech boom. Lewin persisted through the tech stock bust in 2000 and never deviated from his mission to improve his company. Leighton told CNN that he and Lewin "were both pretty focused on getting the job done, and that was true whether the stock was at 350 bucks or 50 cents."
Tragically, Lewin died before seeing Akamai grow into the company it has become. Lewin was aboard American Airlines Flight 11 from Boston to Los Angeles. It was the first plane to be intentionally-crashed into the World Trade Center by terrorists.
The FAA reported that Lewin was stabbed to death during a confrontation with the terrorists, according to phone calls made by flight attendants to authorities before the crash. The 9/11 Commission confirmed his death as the first of the 2,980 victims who would perish during the attacks on the WTC and the Pentagon. It is believed that Lewin's military training and understanding of the Arabic language brought him to confront the terrorists during the hijacking whereupon he was fatally wounded.
Lewin was survived by his wife and two sons. His legacy is remembered in tributes found on the internet, the technology he helped shape during his lifetime. Danny Lewin Square in Akamai's hometown of Cambridge, Massachusetts is dedicated in his honor.
WorkingNation is proud to share his story during our Town Hall on closing the skills gap in the cybersecurity sector. The ability to distribute video content over the internet in an instantaneous fashion can be taken for granted, but it was Lewin's genius and work ethic that should be remembered for making it possible.
"He was the rare person of incredible intellect and action. A truly one-of-a-kind person. It is safe to say that meeting Danny completely altered the trajectory of my life," Bilger said. "Without him, I don't think WorkingNation would exist."
To learn more about Lewin and his incredible life story, read his biography No Better Time: The Brief, Remarkable Life of Danny Lewin, the Genius Who Transformed the Internet, by Molly Knight Raskin.
Join the Conversation: Share your thoughts about Danny Lewin's story on our Facebook page.