Editor's Note: This article was originally published on June 7, 2018.
Rebuilding the lives of patients who suffer limb loss or a lack of mobility takes someone who cares. Someone who is deeply involved with matching the needs of patients with the technology that can enable them to reach a new normal.
Century College in White Bear Lake, Minnesota has dutifully served the Orthotics and Prosthetics (O&P) industry for 44 years by teaching beyond the technical skills. The school's Orthotics, Prosthetics and Pedorthics program ensures that its graduates are prepared to enter the workforce with an advanced skill set and an open heart.
"I think that's the number one reason that I went into the field. You're not just with an amputee who walks in the door just for that one day. You build a long-term relationship," said Drew Gienau of Cedar Falls, Iowa.
Gienau has wrapped up the last year of the collaborative Century College and Concordia University master's program and his clinical rotation with Limb Lab in Rochester, Minn, where he works as an O&P assistant and fitter. He has spent his time working with veterans to help them rediscover their mobility.
Another Century College graduate, Amy Boutchee, from North St. Paul, Minn. is proud to have found a new career that engages both her love of working with her hands and her desire to make a difference.
"A career is something, to me, that is more fulfilling, more rewarding. It means something both to the people that you're working with and to yourself," said Boutchee. She is working on becoming an assistant practitioner. Century College is the first school to offer a formal education for this position.
Through Century College, Gienau and Boutchee discovered an overlooked part of the healthcare industry, one that is in a critical need of more workers to create solutions for a growing population of amputees and orthotics patients.
A Shortage of Skilled Professionals
Gienau and Boutchee's paths to O&P careers reflect how many come across this field. While nurses and doctors are the more recognized outcomes for students who want to enter the healthcare industry, there is ample opportunity for technicians, practitioner assistants and clinical practitioners to join up. However, these careers do not get the attention they deserve.
The reality of the United States' rapidly-aging population is that it is placing two stressors on the O&P field. The current capability of the education system is not enough to replace the loss of workers due to retirement. Century College is one of 13 schools in the U.S. to offer a master's program for clinical practitioners and one of seven which trains technicians.
More seriously, the aging baby boomer population and the rise of vascular and diabetes — the leading causes of amputations — have resulted in nearly two million Americans living with limb loss. Twenty-eight million others are at risk of amputation, according to the nonprofit Amputee Coalition. It is a problem with no sign of abating as an estimated 507 people in the U.S. lose a limb every day.
"The amount of schools and amount of funding we're seeing for those schools is either stagnant or decreasing. We can't get enough people into the profession to even come close to managing that population in the United States," said Charles Kuffel, President and Clinical Director of Arise Orthotics and Prosthetics in Spring Lake Park, Minn.
If the industry cannot increase the number of credentialed professionals by 60 percent over the next six years, there will be a critical shortage of workers. But it's not just the U.S. that needs them, the entire world does as advanced countries in Asia and Europe contend with their aging populations.
Century College's O&P program has a strong reputation and has attracted students from around the nation and the world. But Century and other O&P schools must deal with an overall awareness gap. Despite recent advances in technology and the increasing visibility of amputees, the link is not made to the skilled professionals who help them achieve what was impossible decades ago.
"A lot of it has to do with people [who] don't know about our profession. They see the amputee running on a commercial. They may see the Paralympics, but they don't understand the connection between that limb loss and how that client was able to break a world record on a prosthesis," Kuffel said.
Most students come across O&P because they have a personal connection to the field. Gienau has two relatives who are amputees. He heard about the master's program through a family friend. Century College Dean of Nursing and Allied Health, Beth Hein Ph.D., explained how this connection led students to consider O&P as a career.
"Whether they themselves have an artificial limb or some sort of orthopedic brace, that's what's drawn them to the profession itself. Or they've had a family member or someone they've known close to them that has worked within the industry," said Hein.
Or they fall into the program like Boutchee, a mother of four who left behind her job as a restaurant server to gain new skills at Century College. It was through word-of-mouth from another student that convinced her to sign up.
"I had a class, a developmental psychology class with a girl that was in the program and she had nothing but great things to say about it, so it interested me even further," Boutchee said.
Gienau said that his decision was sealed when he learned about the program's 100 percent placement rate. If graduates are willing to relocate, the program's faculty will work one-on-one with students to set them up with career opportunities where workers are needed the most. Century College also serves the regional need by placing students with O&P manufacturers and clinics, like Limb Lab and Arise, via mandatory internships and residencies.
Getting out in the Real World
But the hands-on training doesn't begin when the students step away from the Century campus. They already have a complete skill set to fabricate O&P devices and work directly with patients. It's what Century College's Director of Prosthetic Education, Roger Wagner said sets Century apart from other schools.
"It's been the focus for 40 years and it's one of the things that the faculty here insists upon. We want students to be able to understand all aspects of both technical and clinical skills," Wagner said.
The O&P program was designed with multiple entry and exit points so students can find the right career within the industry which fits them. Students with no experience can gain a master's degree as a clinical prosthetist or orthotist in six years. Or they can opt for a quicker pathway and become a technician after one year. Each program along the technician-assistant-practitioner career pathway is accredited by the National Commission of Orthotic and Prosthetic Education (NCOPE) and all students sit for American Board for Certification (ABC) exams.
During the first year, students learn how to fabricate orthotic and prosthetic devices that increase users' freedom of movement and functionality. This means utilizing all available materials, from leather and metal to high-tech polymers and composite materials.
Boutchee explained that she entered the program with no experience working with tools. "Being able to use a drill press and a drum sander, those are things that I've never done before and was able to pick up relatively easily," Boutchee said.
The program also incorporates the latest in design and fabrication technology. Models can be created in CAD and CAM programs and produced by 3D printers. There are prosthetic devices embedded with computers that can respond to the movements of the wearer. They can also include designs that fit the user's personality.
Thirteen-time Paralympic gold medalist Jessica Long, from Baltimore, has acquired different prosthetic legs for whatever activity she chooses. One set is fitted with flip-flops and a tattoo that looks just like the real thing.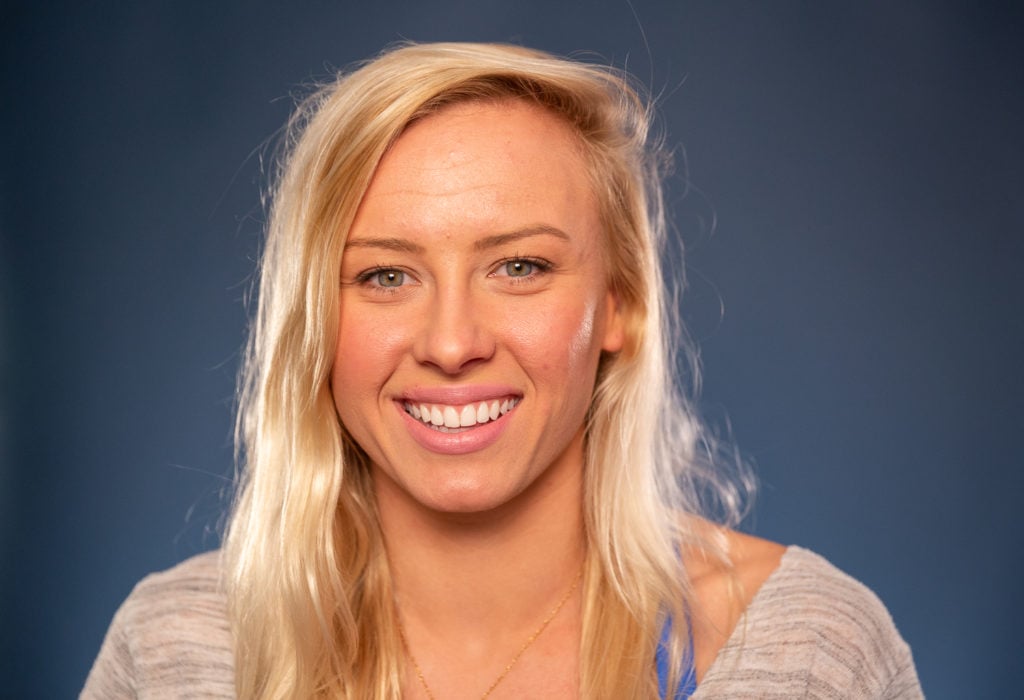 "I've had so many different legs," Long told WorkingNation. "I've had rock-climbing legs, I've had model legs. I've had these computer legs that calculated how my ankle would move."
Long noted that since she has dealt her entire life with surgeries and fittings, a positive relationship with her prosthetist is the "number one" factor for her. She said practitioners must have a passion for what they are doing and be able to have an open line of communication to ensure that the devices work for the clients.
Gineau echoed this sentiment. "That's the number one goal as a practitioner, is just creating that connection and having trust between each other, knowing that you're going to both work together to create a mutual understanding of what their goals are and how you're going to achieve them," said Gienau.
According to Limb Lab founder and certified prosthetist Brandon Sampson, Century College produces graduates with the right combination of compassionate care and technical skill. His company has had a relationship with the school and has brought in students like Gienau to apply what they have learned while finishing their education.
"The students that come from Century College have a good personality. They've been trained well. They've been exposed to all sorts of new technology and old technology and understand where this field came from and the developments along the way," Sampson said.
What Do You Want to Do?
At Limb Lab, when a new client has a problem with their prosthetic or orthesis, they are handed a paper with a question: "What do you want to do?"
It is the first part of establishing a trusting relationship and determining the client's needs. Do they want to go rock climbing like Long? Or do they want to become the first double-amputee CrossFit trainer like U.S. Marine veteran Davey Lind?
"The relationship that I have with my prosthetist is so important because he understands what my life is," said Lind, who lives in Corona, Calif. "I have goals. He understands those goals. I have a lifestyle; he understands that lifestyle."
For Boutchee, the second year of the Century College program taught her the importance of listening to patients. This aspect of the job engages her nurturing side, which she said carries over from her experience as a mother and caregiver.
"Getting their feedback gives a better understanding of what they're going to need. Really listening to how they feel and what they want," Boutchee said.
Determining the answers to these problems brings out the creative side of the O&P profession. With so many options to choose from and the uniqueness of each patient's capabilities, no day at the office is the same, according to Gienau.
"It's very different than most fields where you go in; you know what your job is and how you're going to do it every day. I think that the orthotic and prosthetic field demands that you find a new way to do something each day," said Gienau.
Helping patients restore their movement is key to their mental health and well-being. According to the Amputee Coalition, 36 percent of Americans who have limb loss experience depression and 87 percent report they have barriers to their mobility, employment, and education. O&P professionals help knock down these barriers to rebuild the lives of their patients.
Lind said that learning how to walk again on prosthetics changed his life for the better.
"If I didn't have prosthetic legs today, I would definitely not be as positive. I would be confined to a wheelchair," said Lind. "My outlook would definitely be more negative."
The holistic training that students get from Century College extends into the profession. Students can change their lives by learning new skills and affect change in the world. The Arise president drove home this point.
"When I bring my residents in, I always tell them 'You're in a profession, a fantastic profession that allows you to go anywhere, not only in the United States but in the world. To do what you do impacts those people profoundly. Not only that person but also everybody they encounter for the rest of their life,'" said Kuffel.
A little more about Davey Lind…
Master Sergeant David "Davey" shared his inspirational story as part of our special coverage saluting veterans for Veterans and Military Families Month in November, 2019.
On June 14th, 2007, while on his third deployment to Iraq, Lind's vehicle activated a pressure plate IED. The resulting blast left Davey a double amputee, with one above-the-knee amputation and one below-the-knee amputation.
Though Davey initially felt lost at this sudden life change, he quickly began working with a physical therapist and prosthetist with a new goal in mind: walking down the aisle at his friend's wedding. With hard work and determination, Davey took his first steps just 2 months after his accident and accomplished his goal.
Following his accident, Davey returned to the military and was promoted to his final rank: Master Sergeant. Now retired since 2009, Davey has become the first double-amputee CrossFit trainer, and is also a motivational speaker.
"My legs can help describe me, but they don't define me," says Lind. "I hope that when people see me for the first time, they look at me and realize that anything is achievable."
Lind is not alone – 1,558 military personnel lost a limb as a result of the wars in Afghanistan and Iraq.
To find out more about the Century College Orthotics, Prosthetics and Pedorthics program, click here.
For more information about O&P programs in your state, visit the National Commission on Orthotics and Prosthetic Education website.
Join the Conversation: Share your thoughts about WorkingNation's Do Something Awesome mini-documentary on our Facebook page.