As more Americans feel it is safe to travel again, airlines that previously trimmed their workforces due to the pandemic are scrambling to adjust again. Last year, airlines encouraged buyouts or were forced to lay off employees when passenger numbers plummeted during the height of lockdowns. An aging workforce and early retirements share part of the blame. As a result, airlines rehiring or staffing-up are now facing a shortage of workers, including pilots.
The gap between demand for pilots and the supply is forecast to reach as high as 50,000 globally by 2025, according to one aviation industry study. The study estimates a deficiency of 12,000 pilots in 2023 in North America alone.
United Airlines is the only major U.S. airline to own a flight school—the United Aviate Academy. The pathway to the cockpit through the Aviate program takes about five years—aspiring pilots with no experience can become licensed within two months, can begin earning an income within a year, and become a full United pilot within five years.
In an effort to fill the need and, at the same time, diversify its ranks, United has set a new goal: half of all students to its pilot training academy are to be women and people of color. This equates to 5,000 new pilots by 2023 falling within those demographics. Currently, according to the Bureau of Labor Statistics, just 3.4% of aircraft pilots are Black, 2.2% are Asian and 5% are Hispanic; 5.6% are women.
A College Partnership to Create a Diverse Pipeline of Pilots
United is turning to higher education for a hand in solving the twin issues. This summer, the airline launched partnerships with three Historically Black Colleges and Universities (HBCUs) to recruit students into the career. Delaware State University, Elizabeth City State University, and Hampton University students will have the opportunity to join Aviate.
"Such university-industry partnerships are mutually beneficial to both parties," says Kuldeep S. Rawat, Ph.D., AvMp, the Thorpe Endowed Professor and Dean of the Elizabeth City State University (ECSU) School of Science, Aviation, Health, and Technology.
"The partnership affords United (industry) the ability to be more hands-on in our aviation degree planning and action and have the opportunity to evaluate a large pool of well-qualified candidates that have learned the skills that they are looking for," says Rawat.
"In turn, by partnering with industry leader such as United, ECSU's Aviation degree program will have the ability to implement both technical and soft skills training needed at workplace into the curriculum and give our students access to a direct pathway to a major airline. This gives use as an educational institution higher relevance in the marketplace and creates a more substantial return on investment for our students," he adds.
ECSU's aviation program started as a minor in Airway Science back in 1989 and became a four-year degree program in 2002—the only one of its kind in North Carolina. It was one of the first to receive an FAA grant to start an aviation program as a way to increase diversity in federal government.
In three years, the program has grown 30% from 68 to 153 students, and through the program students currently operate a training fleet of 12 aircraft. Students earn their bachelor's degree and private and commercial pilot's license. Graduates have historically pursued pilot jobs in the military and commercial airlines.
During a FAA Women in Aviation Advisory Board meeting, ECSU's chancellor shared details of the school's program, which was attended by an Aviate representative, according to Rawat. A subsequent, more detailed presentation ensued, and United and ECSU signed an agreement three weeks later.
"We are pleased to partner with Elizabeth City State University to identify and train the next generation of United pilots," said Capt. Curt Brunjes, United's managing director of pilot strategy and Aviate. "Though this partnership, aspiring ECSU aviators will connect with dedicated mentors to learn, train and pursue a direct path to a United flight deck."
As part of its partnership, ECSU students will be able to:
Transition to United as a first officer after completing the Aviate program and hiring requirements;
Pair with United pilots for mentoring and career development;
Engage in professional development events and access learning resources;
Enjoy travel privileges to hundreds of United's destinations.
A Different Career Pathway
The Aviate partnership agreement was signed in March and launched in August. ECSU anticipates 30-40 students to participate or apply to the program after completing their private pilot license, which is required for eligibility. So far, two students have been selected for an interview.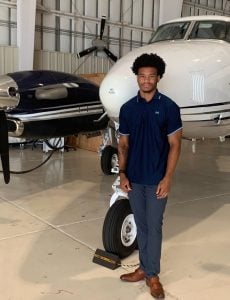 Junior Reginald Booker is one of those two. Originally a computer science major at another school, he visited ECSU and "fell in love" with aviation. He looked into joining the military with hopes of gaining experience to get a commercial pilot job eventually, but now sees a different path with the Aviate program.
"Coming from a Black background and household, you'll of course have different experiences in life," Booker says. "The aviation field is typically known for being run by, and worked by, white males. So, to see something like the United Aviate program really emphasize on being diverse, not just ethnicity but gender. I think it is important because it offers a lot of different perspectives on life. Everyone has same technical understanding but this interview I'm about to go to, they're not just asking tech questions. They still want to get to know you on a personal level. So, the technical aspect is important of course, but the diversity is just as important."
"Aviation has a long history of thriving through a collaborative spirit and including diverse voices is key to remain on the forefront of innovation," Rawat adds. "Individuals from diverse backgrounds bring talents, distinctive ideas, thoughts, perspectives, and insights leading to enhanced safety, efficient travel, and profitability. Moreover, companies can reap additional benefit termed as "diversity dividend" by better understanding underserved demographics and explore new areas for opportunity altogether."
By the time Booker graduates, he expects to have his bachelor's degree in aviation science with a concentration in flight education, his private pilot's license, instrument rating, commercial pilot's license, and certified flight instructor license. He anticipates having to provide flight instruction to accomplish the hourly requirement and then work for a regional airline that's a pipeline of talent for United.
"Walking around the airport you always see the pilots in their uniforms and they look nice professional, put together," he says. "But then you start to see more and more, and raise the question, 'why don't I see any that look like me?' So, if I can be somebody's spark to take a different career path or join the field of aviation whether they're my color or not would mean a lot to me."
You Might Also Be Interested in This Story
20 years ago, six friends graduated from Hampton University's aviation program. Today, they are all pilots at United and actively working to ensure more Black aviators have the opportunity to soar.