When Caroline Fay first met her now-business partner Ananth Kasturiraman, they bonded over an important question: "Why are so many Americans being left out of the middle class and how can we help?" Out of that bond, Skillist was born.
"We see ourselves as a hiring platform that connects employers who are in need of entry-level talent to relevant and often overlooked candidates," explains Fay, "say, for example, the millions of Americans without four-year degrees."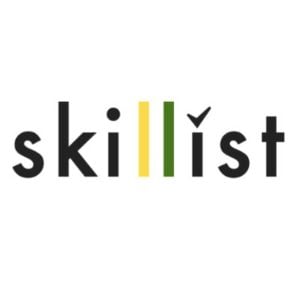 Skillist, launched in Boston last April, is making the connections by reinventing the resumé. "The resumé is 500 years old. Just based on that, you could probably make a good case that it's time to reevaluate," argues Fay.
Only 33 percent of Americans have a four-year college degree or higher, according to statistics from the Lumina Foundation. "The resumé is built for that minority that has that more pedigreed background. Ultimately, we feel that it's not the fairest way to evaluate a person's ability and potential. It's not allowing the user to communicate all their skills, all their aptitude, and what they can deliver on the job."
As the name suggests, the emphasis at Skillist is on a jobseeker's skills, not where they went to school nor a chronological litany of their work history. It's a skills-based and identity-blind application process. Additionally, all of a job applicant's identifying information, including name and contact information, is hidden until, and unless, the employer wants to interview them in person.
Skillist is a fairer and more effective way to apply for jobs. Skillist allows you to apply for roles based on what you can do, rather than what kind of credentials you have. We post full-time job opportunities from great employers that offer full benefits and competitive pay.
The person looking for work is in control of the information they share with the employer looking to fill an opening. Skillist works with the company that is posting the job to determine the five skills that are most critical for on-the-job success, and then an applicant will actually share up to two examples of how they have that skill.
"We're helping to illustrate the transferability of peoples' skills," she says.
The first person hired through Skillist once had been a manager at a Dunkin' Donuts. "You might see someone's resume and see that they worked in food service, and that doesn't necessarily tell you how they were an incredible manager, that they pay attention to details, and have customer service skills."
The job applicant explained how her job as a fast food manager gave her all the skills the employer was looking for. She got an in-person interview and was hired as a customer service rep at an insurance company.
"She got to explain how she has all the transferable skills necessary to make this seamless industry and career jump," explains Fay. "Employers often say that it feels like a more intimate way to understand that person's experience and what they bring to the table."
The job applicant doesn't just have to explain their skills through prior work experience; they can bring in examples from the rest of their lives. "Somebody actually just had a great application that came through, and they were passed forward by the employer. Under the skill of problem-solving, they actually spoke about their time when they ended up homeless. They spoke about how they navigated that scenario and were able to problem-solve it."
Most of the jobs being posted on Skillist are soft skill-heavy — customer service, sales, technical support, and administrative assistants. "Middle-skill jobs are a massive component of the labor market. Using this skill-based method can really allow a wider group to be considered for these jobs that don't require a Bachelor's degree," Fay tells me.
Skillist currently is based in Boston, serving local employer partners including Wayfair, DraftKings, and ezCater, but it will soon be expanding to New York. The employers pay for the postings. The 4,000 jobseekers currently on the Skillist platform pay nothing. About 1,000 of those are referred to the platform from job-training organizations, community-based organizations, and community colleges.
Skillist says it's measuring its impact in two ways — the number of people being interviewed and hired, and inclusivity. The company says that compared to other, more traditional online job boards, Skillist users are 15 times more likely to get an interview and four times more likely to get hired.
"We consider the companies that work with us to be partners because they are committed to doing things differently to better open up their pipeline for a more inclusive talent pool. Fifty percent of our users don't have a degree. Fifty percent are currently making less than $30,000. So this kind of career-advancing work would make a huge difference in their lives."
If an applicant doesn't move forward in the application process to an in-person interview, Skillist offers them personal feedback and mentoring through its team of career coaches led by Fay who has a master's degree in Education. "Our jobseeker team will share feedback on what the applicant might be able to do better next time. We suggest to them other roles that might be a better fit. We keep the conversation going, and we try to keep our users on the platform, and engaged, and looking for other opportunities," she says.
Unlike many of the people on the Skillist platform, Fay has a bachelor's degree in Sociology and Women's Studies from Providence College in Rhode Island. Her first job after graduating was working with adult learners and people coming out of community college. She heard people saying that continuing education was an incredibly valuable experience, but it was too expensive.
The experience incentivized her to go back to school herself and focus on career development for people who didn't have a four-year degree. That's when she met her business-partner Kasturiraman. "He was at Harvard Business School, coming from a career in consulting, and he was trying to make his way towards educational consulting." They both recognized that there was a massive, systemic workforce issue that needed to be addressed.
"We asked ourselves, 'how we could support individuals who need to move out of a low-wage job to support their family, especially if those people have great soft skills and great professional skills that are valuable and needed in the workforce?'" says Fay. "We thought we might be able to help with this issue if we chased this business idea that eventually became Skillist."
"My career is really motivated by the idea that there are millions of Americans who deserve and are capable of a family-supporting career, but our labor market isn't tapping into that talent, and everyone is missing out," Fay tells me.
"If we can allow jobseekers to tell their story more, and employers to open up their pipelines and make job descriptions more inclusive, we can get more people who haven't had the privilege to get a college degree into awesome jobs. It has been so humbling and affirming to see that we're actually really helping — both companies and jobseekers — in the way that we wanted to."