The entertainment industry has supported the military in various ways for generations, from Bob Hope's USO tours to too-many-to-count benefit concerts and fundraisers. Grammy Award-winning artist Zac Brown continues the tradition in what may be one of the most unique ways ever.
During the summer, his Camp Southern Ground serves as an inclusive camp for a mix of typically developing children, children with Autism Spectrum Disorder, those with learning and attention issues, social or economic challenges, and children of military families including Gold, Silver and White Star children.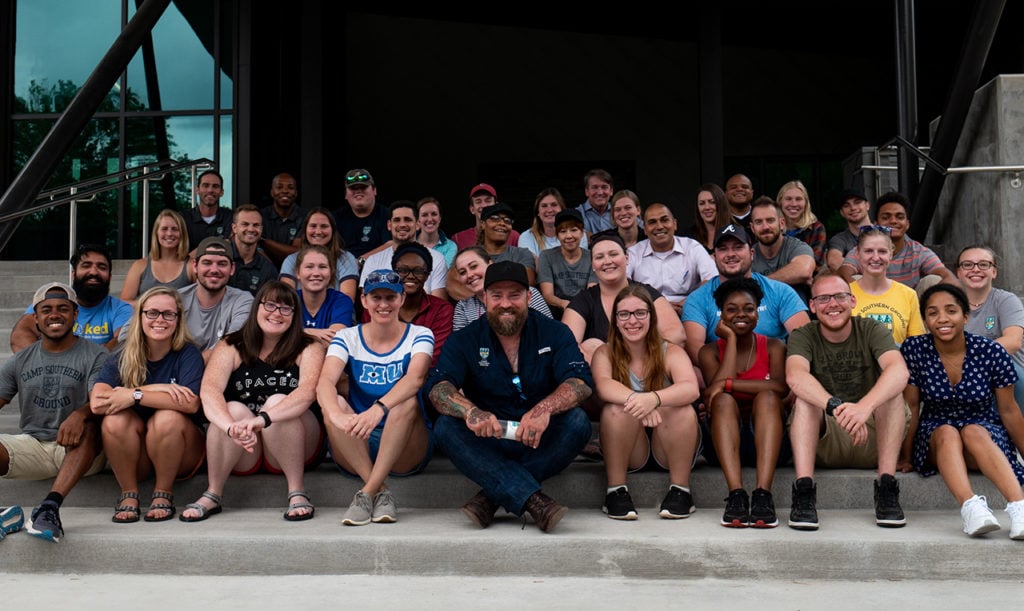 Brown tells WorkingNation the impetus to found Camp Southern Ground came from his own camp experiences.
"Camp changed my life. It's the foundation for who I am today. Growing up I spent summers at camps in the North Georgia Mountains. First as a camper, then counselor, and later on, a staff member. It's incredible to see the difference that camp can make in a kid's life in just a week," says Brown.
"Sometimes kids just need a glimmer of hope. Camp is that healthy environment that opens you up and changes you in a powerful way. It levels the playing field and helps kids know they are capable of bigger things."
"To build a camp is my lifelong dream," Brown says. "When I was a camper, counselors were like gods to me. At night around the campfire, I would watch them play guitar, which is how I learned to play by chord for the first time."
"I've been able to use the musical success of Zac Brown Band as a vehicle to make my vision a reality. I am able to bring the people and resources together to make this happen, but it's really not about me. I'm just a conduit helping to make a difference. We can change perspectives about the world through exposure to new people, cultures, and ideas.
Camp Southern Ground is a year-round camp for veterans
The rest of the year, the 400-acre camp in Fayetteville, Georgia is dedicated to honoring and serving veterans transitioning back into society with two programs: Warrior Week and Warrior PATHH.
Warrior Week is a 12-month wellness and workforce transition program that begins with an intensive one-week retreat at Camp Southern Ground.
The goal, according to the website, is to "help transitioning veterans harness their strength, perseverance, selflessness, sacrifice, integrity, and honor as a springboard to life after service."
"So, what this plan is geared towards is really helping those veterans understand who they are, understand what they're sort of naturally designed to go do and putting a lot of passion around that," according to Mike Dobbs, president and CEO of Camp Southern Ground.
"Oftentimes, we've seen these veterans come in and they're really broken in so many ways and they're sort of a failure-to-launch upon coming back," Dobbs tells WorkingNation. "And they were tied to such a great mission of our country and had such bonding of their unit when they come back home."
"And, oftentimes, the world that they left is different now. Many of their friends from high school or whatever have college degrees perhaps, and they're all doing all kinds of things. And you know, we've got a veteran here that doesn't know a whole lot about budgeting and family, and they end up without a real plan and oftentimes self-medicating. And, they are sitting on the sofa a lot and just not a lot of motivation."
Three-month work transition workshop
Each Warrior Week session begins with 12 new participants, four returning participants and a prior generation mentor as a role model.
Before campers arrive, Dobbs says "they go through a week's worth of really kind of soul searching, identifying who they are and what are they really passionate about, what's their purpose in life, how do they take their strengths and overlay that, creating this purpose. So, they walk out of here really with a sense of direction and a plan to go execute that."
In addition, camp components include developing resumes and LinkedIn accounts, diet and nutrition, family budgets, and the introduction of resources available to them.
"It's wonderful to see these guys that are so energized. And there was a guy I saw who was here last week who came through our program months ago and now he's lost 60 pounds," Dobbs says. "He said, 'You know what, I've changed my way of eating. I started working out again and based on how you guys taught me to eat more healthy,' he said. 'I'm not eating all this junk.' He lost 60 pounds. Looks great. And I'm really super excited about what he's doing."
A survey of Warrior Week alumni found that 90 percent of them feel more prepared for the workforce, something Dobbs hopes will reveal itself in the companies with which the program works.
"What we hope is that these companies are going to find that new hires that have gone through our program are going to be a much more engaged employee who understands who they are, what their strengths are, and how they can contribute to any organization in a meaningful way."
Warrior PATHH
The second military wellness program and Camp Southern Ground is Warrior PATHH (Progressive Alternative Training for Healing Heroes).
Warrior PATHH is the nation's first non-clinical program that seeks to cultivate and facilitate post-traumatic growth in combat veterans struggling with PTSD, depression, anxiety and/or combat stress. It's a new 18-month offering by Camp Southern Ground that will pair six participants with six program guides. It begins with a week-long intensive and will be offered 12 times per year.
"And it's small and intimate because they're dealing with and they're pulling the scab off of wounds, emotional wounds, that may oftentimes stem from their childhood that became — when in the stress of the war or combat — something that they now have a hard time working through or getting through and it can be debilitating for a lot of our veterans," according to Dobbs.
"We hear things like, 'Out of the last 60 days, on average 30 days I woke up contemplating taking my life because I didn't have a job.' 'My wife took the kids and left me because of the state I was in.' 'I was nonfunctional, could not get out of my funk to go out and embrace the world and confront the world as we know it.'"
"And to see them, walk out of here with a renewed sense of 'I can do this. I can now take what happened to me and look at it as to what happened for me, and that those experiences have made me who I am. And now I'm looking at it as, I now have a unique difference that can be transformative, not only for me and making me stronger, but what can I do with that, that might help allow me to help others."
Continuing to honor those who served
For Zac Brown, helping veterans has been a passion for many years. That passion for honoring those who have served is evident during his concerts when, during the song Chicken Fried, he brings veterans up on stage with him to thunderous applause.
"To recognize and honor the men and women who have served our country and allowed us the freedoms we have — to go to camp, or to a concert — is incredibly important to me. I believe we have an obligation to honor that sacrifice as well as take care of them when they return home."
For more of our veterans' coverage, click here.