It is becoming more apparent that no industry is immune to the problem of the employability gap, or skills gap. According to code.org, a non-profit dedicated to expanding access to computer science, there are currently more than 500,000 open computing jobs nationwide, but fewer than 43,000 computer science students graduated into the workforce last year. By 2020, it is predicted...
For the last 10 years Tiffany Estrella has been grinding away in the fashion industry. Her career has taken her from the Dominican Republic to New York City before finally leading her to Los Angeles. In all, Tiffany invested 16 years in fashion—far from a small investment. Like many people who devote that much time dedicated to one thing, Tiffany...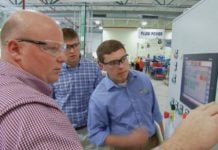 This piece was originally published on Grads of LifeVoice. Last year my mom and dad retired after 39 and 41 years of teaching. My mom taught high school health and physical education for all 39 while my dad taught 5th grade for all 41, both at the same school corporation…the entire time. To go a step further, my dad never changed...
A conversation with three leaders working to guide America's inner cities to well-paying jobs and set them on pathways to growth. An article by JPMorgan Chase & Co. Every American city has its own distinctive culture and charms, but at the heart of many of them lives a disturbing similarity—a large population of undereducated, unemployed young people. But efforts are underway...
"All the net job creation in this country comes from young startups, not from small business, not from big business—the Fortune 500 companies—it's these young, fast growing startups. If you want to create jobs around the country, you've got to back the startups around the country, not just on the coast." - Steve Case on MSNBC's Morning Joe Last year, 80%...