"The workforce is changing" is a phrase leaders frequently hear. So why does it feel different now? Why does "change" feel so heavy, pervasive and notable? Because new and emerging technologies are transforming the way things get done, and they are overlapping and colliding in ways they haven't before, according to the latest Galllup research. "More people do their job virtually...
President Donald Trump has chosen American lawyer and current dean of the Florida International University College of Law, Alexander Acosta, as his new pick for Labor Secretary. Trump's pick came one day after his first pick, CKE Restaurants CEO Andrew Puzder, withdrew his name from the position. The president apparently didn't waste any time once Puzder officially withdrew his name, meeting...
By Martha Laboissiere and Mona Mourshed "The land of opportunity" — that is the promise of the United States. And one of the reasons the country has been able to deliver on that promise is that it has been able to develop the talent it needs to create wealth and to adapt to ever-changing economic realities. But there are concerns...
On Wednesday, President Donald Trump held a listening session at the White House with representatives from the retail industry which employs millions of people. To kick off the session, Trump mentioned the great confidence level in our economy right now citing promising numbers both in the stock market and the jobs report, and reiterated his administration's commitment to remaining "very focused...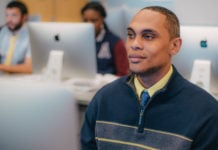 By Ali Jaffer and Mona Mourshed The United States has thousands of workforce development and training programs, run by the public, social, and private sectors. Some are excellent; others, not so much. The problem is that we don't know which are which. That lack of knowledge is costly. According to the Georgetown University Center on Education and the Workforce, spending on...