As the nation powers up to transition to clean energy, the need for electricians is coming into focus. The question is: Are there enough of these skilled workers in the workforce to get the job done? Right now, the answer is 'not yet."
Skilled trades – including electricians – are having difficulty finding workers. There is the dilemma of an aging workforce reaching retirement age and a lack of the younger generation entering the field. The National Electrical Contractors Association tells WorkingNation, as of 2019, the average age of union journeymen electricians was about 53 years old.
Demand for electricians is expected to grow by 7% in the 10 years ending in 2031, with roughly 80,000 openings per year, according to the Bureau of Labor Statistics.
This projection was made before the Inflation Reduction Act was signed into law in 2022. It aims to provide billions of dollars in incentives and grants for infrastructure investments in clean energy, the environment, and transportation. By some estimates, 100,000 green jobs were created in the first six months after the bill was signed last August.
'Front lines of climate action'
"If we look in our homes, there are millions and millions of machines which currently run on gas, or fuel oil, or propane, and we need to switch these out to versions that run on electricity, predominantly those that use heat pumps," says Sam Calisch, head of special projects at Rewiring America, a nonprofit focused on promoting electrification of homes, businesses, and communities.
The group works to educate the general public about how they can transition to clean energy and calculate the incentives that go with switching to an electric vehicle or installing heat pumps that heat and cool houses.
"There's lots and lots of work for running new electrical wiring, for installing new electrical equipment, for upgrading the breaker boxes that supply that electricity. In this way, these electricians really are on the front lines of climate action in terms of actually switching out the machines that today cause all of these emissions and replacing them with clean electric versions," says Calisch.
He stresses mass workforce needs for electrification technologies is just starting.
"What we anticipate is demand for electricians to be in our homes, to be in our buildings. Doing this work is going to be really robust over the next 10, 20 years as we go through this transition."
The Struggle to Find Workers
That projected increase in demand comes at a time when electrical contractors are struggling to find workers. 
"There are jobs that I have not been able to do because I haven't had the right workforce. I had to walk away from projects based on the staffing that I have," says James Segura Bernardo, president and owner of Candela Systems Corporation. The New York-based company focuses on energy conservation projects on the East Coast and the Caribbean and lists clients including government buildings, retailers, and museums. 
Bernardo says his company, on average, employs 35 electricians. New hires start with a five-year apprenticeship program. He says unlike when he first started the company nearly three decades ago, he now struggles to find new talent. 
"I've tried everything from the Sunday church newsletter to recruiters to "penny savers" to newspaper ads to trade schools to high schools to word of mouth. You find them here and there, but it's very rare," says Bernardo. 
Along with outreach at schools and community events, he says the company is also offering incentives to its employees if they recommend someone.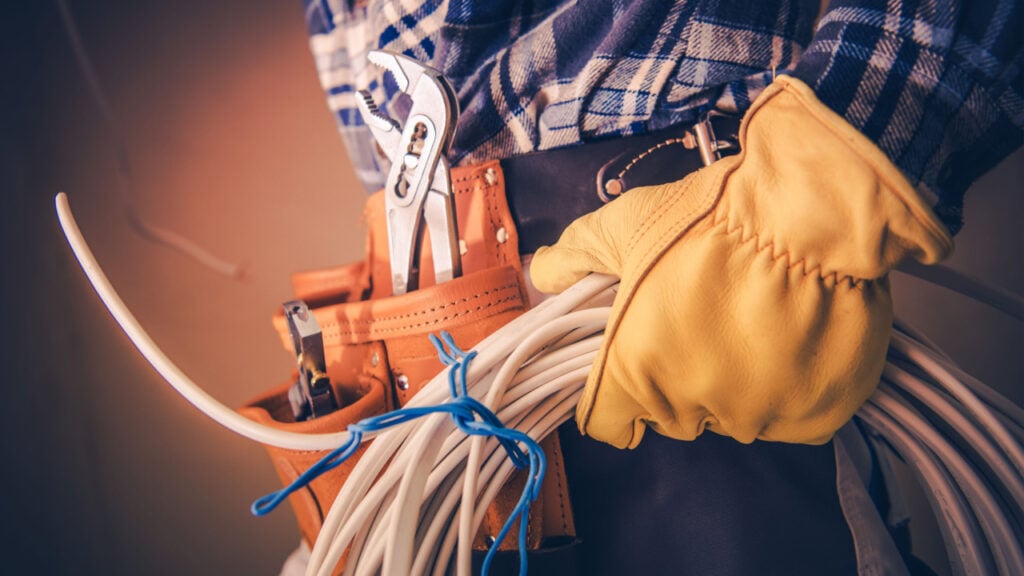 Electrician Apprenticeship Programs
The company is not alone in its outreach efforts. Pacific Inside Electrical JATC (Joint Apprentice and Training Committee) in North Bend, Oregon is a union training program affiliated with IBEW Local 932.
The union is trying to recruit more applicants for its electrician apprenticeship program, specifically minorities, women, veterans, and people from disadvantaged communities.
"At the end of the day, I think the most attractive thing is that it's a career in a trade that pays a pretty good wage and provides benefits for them and their families," says Robert Westerman, business manager for IBEW Local 932 and chair of the Pacific Inside Electrical JATC program.
Apprentices are in the Pacific Inside Electrical JATC program between four and five years, explains Westerman. They are paid while they work and also attend classes two nights a week on the path to becoming journeyman electricians.
The prerequisites for application include a high school diploma or GED and one year of algebra with a minimum grade of "C ". Westerman notes the trade is "very math intensive."  
Eight thousand hours of apprenticeship work experience through professional organizations like the IBEW are needed before taking the journeyman exam to get an electrician license.
In Oregon, ZipRecruiter reports, salaries for journeyman electricians ranging as low as $32,416 to as high as $92,758. The median national salary for electricians is roughly $60,000, according to the Bureau of Labor Statistics. 
Electric Vehicle Charging Stations
Westerman stresses the need to keep on top of new technologies and workplace needs.
For example, the U.S. plans to build 500,000 charging stations for electric vehicles (EV), with 50% of all new vehicles operating with zero emissions by 2030.
"We're currently adding further training for our journeymen electricians to be up to speed for all the EV charging stations that are coming our way," says Westerman.
The program – Electric Vehicle Infrastructure Training Program – offers certification around EV supply equipment. 
With green energy projects on the horizon and having a supply of journeyman electricians in the pipeline is also challenging because of geography. "One of the things that we say about our southern Oregon coast is that our greatest export is our children just because the economy has shrunken over the years," explains Westerman.
'It's a career for anyone…'
Alysia Borgogno left the Coos Bay, Oregon area in her twenties but returned with her family several years ago. She had a career in welding but found a new calling when she helped her husband with paperwork for an electrical apprenticeship. Borgogno was approached by a recruiter and says, "I ended up signing up once he started talking about the money. I figured I'd give it a try."
To start, she says, apprentices are paid roughly $24 an hour and can double that by the time they complete the apprenticeship, along with medical benefits and a pension.
Borgogno – a mother of three – is in her fifth year of her electrical apprenticeship working toward becoming a licensed journeyman electrician. "I started my apprenticeship at a hospital that I almost got to do from start to finish. I've done traffic signals. I've done all the crawling under houses and in attics. It's just been an awesome variety of experiences and it's always something new," she says.
While noting her local union is small, Borgogno says she is currently the only female apprentice and is part of a committee to attract more women to the field. Part of that effort is to break down stereotypes about who can become an electrician.
"Women just aren't told that they can do it. They're groomed for other jobs," says Borgogno. "It's not a man's career. It's a career for anyone that loves to build, to be in construction." 
In addition to trying to recruit more women, Borgogno is also working to spark interest among people under 35 years. With upcoming clean energy projects, she sees a bright future. "I think it's an amazing opportunity for us."