By 2029, as the baby boomer generation continues to grow older, more than 20 percent of the U.S. population is expected to be age 65 or older. The graying of America means the demand for medical services, both treatment and preventive care is growing, creating a big opportunity for people to work in the medical profession. One of the most in-demand jobs is medical assistant.
"In the past, if a patient had to see a primary care doctor they may have had to wait longer during that visit or even wait longer to have that visit scheduled," explains Quanna Batiste, Chief Nursing Officer of Ambulatory Care for UCLA Health. "Because of the greater need for care, we have a larger need for a workforce. Having more workforce available increases the efficiency of the office, allowing doctors to see more patients. The medical assistant fills that gap."
Medical assistants are generally the first people a patient sees in a doctor's office after the receptionist. "They're asking them what their chief complaint is, taking all of their history, making sure that everything is accurate so that the physician can make the best diagnosis possible," Batiste tells me. "They do vital signs — taking blood pressure, taking temperature, pulse, respiration. They do electrocardiograms on the patient. They also do point-of-care tests, which includes running a urinalysis if a patient has a concern or a urine pregnancy test."
Unlike a registered nurse, who works collaboratively with the physician and can assess the patient and recommend a course of action, a medical assistant is task-based. "They can collect information, screen patients. They would have to report things to the physician. The physician would give the order, and then the medical assistant can carry things out," says Batiste.
The demand for medical assistants is expected to grow 29 percent over the next seven years, according to the Bureau of Labor Statistics, much faster than the average projected growth for all occupations. UCLA Health has more than 170 facilities across Southern California, including its top-rated medical center on the University of California Los Angeles campus and dozens of outpatient clinics. Over the course of a year, more than 600,000 patients make more than 2.5 million visits to its physicians. The demand for medical assistants is growing. And to meet this demand, UCLA Health tasked Batiste with starting a medical assistant program through UCLA Extension.
One of the first things she did was visit existing medical assistant programs to see if there was an existing program they could buy and implement. "I observed students in their programs. I looked at the curriculum online," Batiste tells me. Through her initial investigations, she determined that UCLA Health needed to design its own program. "There was a gap in what I saw the programs teaching and what I know that we could do if we were able to devote resources to building a great program." Batiste and her colleagues wrote their own curriculum from scratch, chose their own textbooks and created their own tests. "Everything related to this program is brand new."
The UCLA Health Medical Assistant Program (MAP) is also unique in that it takes a year to complete, with students taking classes Monday through Friday from 6:00 p.m. to 9:00 p.m., including 160 hours of clinical internships. "Some programs may be 12 weeks; some are three months. The longest is probably six months. Our program is longer because it was built by registered nurses, using the knowledge that we have. Through our program, we're able to better prepare our medical assistants to be the workforce of the future."
RELATED: Alaska's solution for a dental health crisis
Sixty percent of the 20 students in the first cohort, which graduated in October, was drawn from current staff members at UCLA Health. "I sent out one email to our internal management forums. I received a slew of emails from different managers saying, 'I have an employee that is really great that would like to be a part of it.' We had 53 applicants," according to Batiste.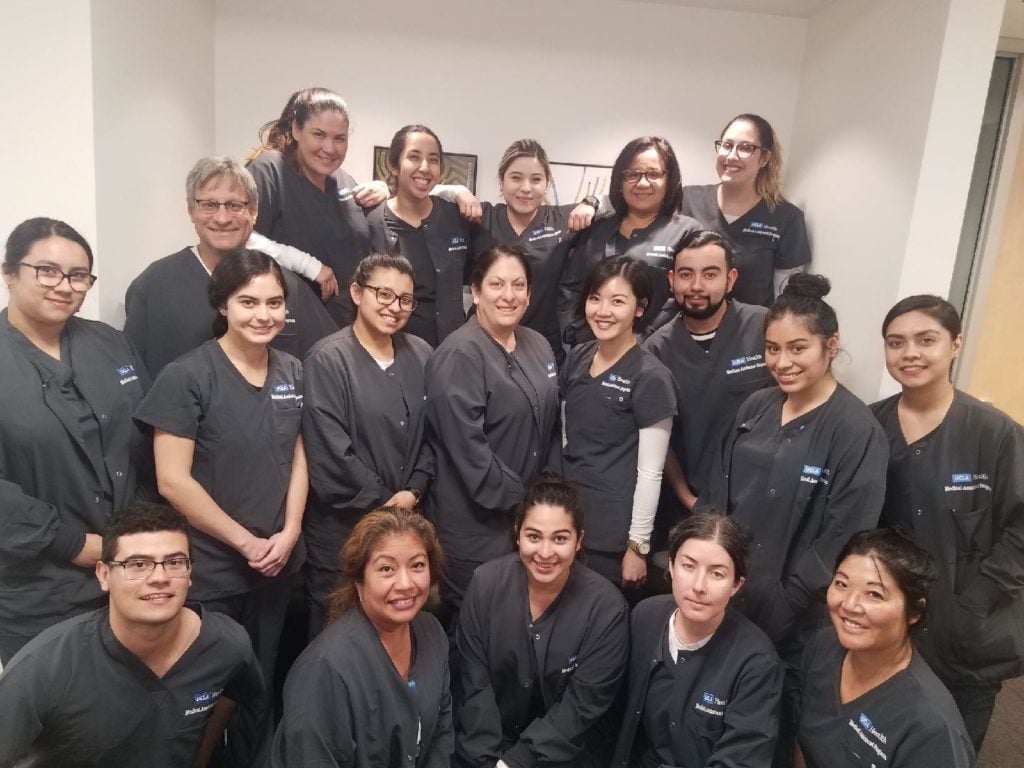 "One of our employees, who graduated with one of the top GPAs, has been an administrative assistant helping with the front desk, making appointments, collecting insurance for 15 years, and he's always wanted to go back to school but didn't really know how to make it happen with the full-time job 8:00 a.m. to 5:00 p.m., Monday through Friday. This program gave him that opportunity."
Another graduate was referred to the program through another UCLA Health employee told Batiste that "there's a lady who works over at Whole Foods and she always talks about how she wants to go back to school. I'm going to bring her a flyer.'"
The cost of the year-long program ($23,000) is comparable to a year at a four-year college or university. But through the generosity of scholarships from the UCLA School of Medicine, each of the 20 students received substantial subsidies that covered tuition, books, uniforms, and computer access.
"The students who are not UCLA Health employees already received $18,500 in scholarship. So they paid about $5,000 out-of-pocket, broken up over four quarters. The students who are UCLA Health employees paid $2,000 for the whole program," explained Batiste.
The UCLA program trains the students to be a medical assistant anywhere in the country and was designed to meet all the requirements for accreditation by CAAHEP. At the end of the 12 months, graduates receive a certificate of completion.
"And because it is from an accredited program, our medical assistants are also required to sit for the national certification exam, the National CMA. It's something that no other MA program requires."
The graduates range in age from 20 to their mid-40s. Many were making minimum wage when they entered the program. They are now qualified for jobs with a starting pay of more than $23 an hour plus benefits, including health care, sick leave, vacation time, and the ability to contribute to a retirement fund.
A second cohort started in September. The next application period opens up in March. In order to get into the program, applicants have to have a high school diploma or a GED. The program asks for transcripts from high school and any college courses previously taken. Applicants take a HESI entrance exam, a test that assesses their ability to read, write, and do basic math. They are also required to provide three letters of recommendation and write a letter or a statement of intent.
While the students are not guaranteed a job at UCLA Health, Batiste says they hope to employ as many of the graduates as possible, and right now they have more openings than graduates. Once they sit for the certification exam, they can apply for the jobs with the assistance of the program administrators. So far, eight of the students have sat for the exams, and all eight have passed.
"At UCLA Health we have over 180 clinics. And they all hire and employ medical assistants," says Batiste. "There are departments that say, 'I want to hire all of the medical assistant students.' I've received letters from physicians where the students have done their clinical hours saying, 'You know what? This student is really great. We would love to have this person working in our practice.' So hiring will not be an issue."
Join the Conversation: Share your thoughts about the medical assistant career and how UCLA Health is training more of them on our Facebook page.