This past week, media companies, tech companies, policymakers, and the people interested in what they are doing, gathered in Ranchos Palos Verdes, California, for the Code Conference 2018. Recode's Editor-at-Large Kara Swisher and Executive Editor Peter Kafka took to the stage to interview executives from Facebook, AT&T, Uber, Spotify, Alibaba as well as elected and appointed government officials.
Much of the questions centered on company growth, competition, past mistakes and new technology, but the future of work — training, skilling and the gig economy — was also top-of-mind. Here's a taste of what the business and government leaders had to say on the workforce issue.
Mark Warner, U.S. Senator from Virginia
"The whole notion of work is changing," according to Sen. Mark Warner, a one-time tech entrepreneur, now on the Senate Finance and Senate Intelligence Committees.
"Nobody's going to work for the same firm for 35 years. We had set up a social contract that was based on the notion that business, government and labor, you're going to be a long-term permanent, W-2 employee. We need a new social contract," said Warner.
That new contract, the senator argues, needs to have portable benefits to help people in gig jobs or who are changing jobs every few years. "I'm not sure it would fall into either [Democratic or Republican] camp, because it doesn't have to all be run by government."
RELATED STORY: Unemployment insurance hasn't changed with the times
"I think we ought to recognize we've got a real failure to invest in human capital. Why do we treat investment in computers as an asset and human beings as a cost?" asked Sen. Warner from the stage. "When we did a tax reform, why didn't we say we'll give everyone here a lower tax rate, corporate rate to be competitive. [Or] we'll put in place a meaningful training program for everybody that makes less than $80,000 a year?"
Dara Khosrowshahi, Uber CEO
The new CEO of Uber, Dara Khosrowshahi, said the company is looking at ways to provide benefits for its three million driver-partners who, in his words, "get to be their own bosses." He said he believed it was important to offer him some security.
"As you think about the gig economy, independent workers are second-class citizens who don't get access to benefits, healthcare, etc., just because they chose to work for themselves instead of outsourcing their career to a company," Khosrowshahi said.
Khosrowshahi made this prediction: "When you think about the future of work, it will be much less about a company, than about the work itself." He also weighed in on automation and its impact on jobs. He doesn't believe machines will take over the world. "Machines augment humans. Machines and humans together will be better."
Linda McMahon, Small Business Administration Administrator
The head of the Small Business Administration is optimistic about the present and future of work but echoed the call for more training programs.
"I think this is the most fun time to be in business and technology and all the things that are happening with AI, machine learning and all of that," said SBA Administrator Linda McMahon. "We have to make sure that as jobs are displaced by that increased technology that we are re-skilling and retraining that workforce to take different jobs."
She was asked if she thought government should be a key player in re-skilling and retraining. "I think it should be a partnership with the private sector but private sector leads. And I think that's typically how things get done."
"Let's take for example one company, UTC, in Connecticut," she said. "The SBA signed a partnership agreement to help them in their supply training because the supply chain of parts and materials come from small businesses generally into the large businesses. But one of the things that UTC is doing as a tech company to help develop more of its workforce is to retrain people who are already there to help them keep up with changing technology."
"I do think that's where tech companies can be part of the leading edge. Bigger companies, in that regard, can help the smaller companies help develop that workforce," said McMahon.
Brad Smith, Microsoft President
Microsoft has been outspoken in its support of continuing the H-1B visa.
"The Obama administration extended the time that a student with a STEM background could work under what's called Optional Practical Training, to get an H-1B Visa," explained Microsoft President Brad Smith. "And that could be cut back, at which point we could have thousands of people suddenly unable to work. And I just think that this is terrible for the country, it's terrible for the tech sector and it is a tragedy for the individuals involved."
Smith also said there are realities in the U.S. that need action.
"We don't want this to be a country where the only people who succeed are people who move here from other places. We need to keep investing in more computer science education, more digital skills, more broadband access for Americans — including Americans in rural counties — who are being left behind," said Smith.
Mary Meeker, Kleiner Perkins General Partner
One of the highlights of the Code Conference is the release of Mary Meeker's annual Internet Report. This year's deep-dive presentation into the tech industry was a hefty 294 slides, covering everything from e-commerce to consumer spending to the state of the workforce.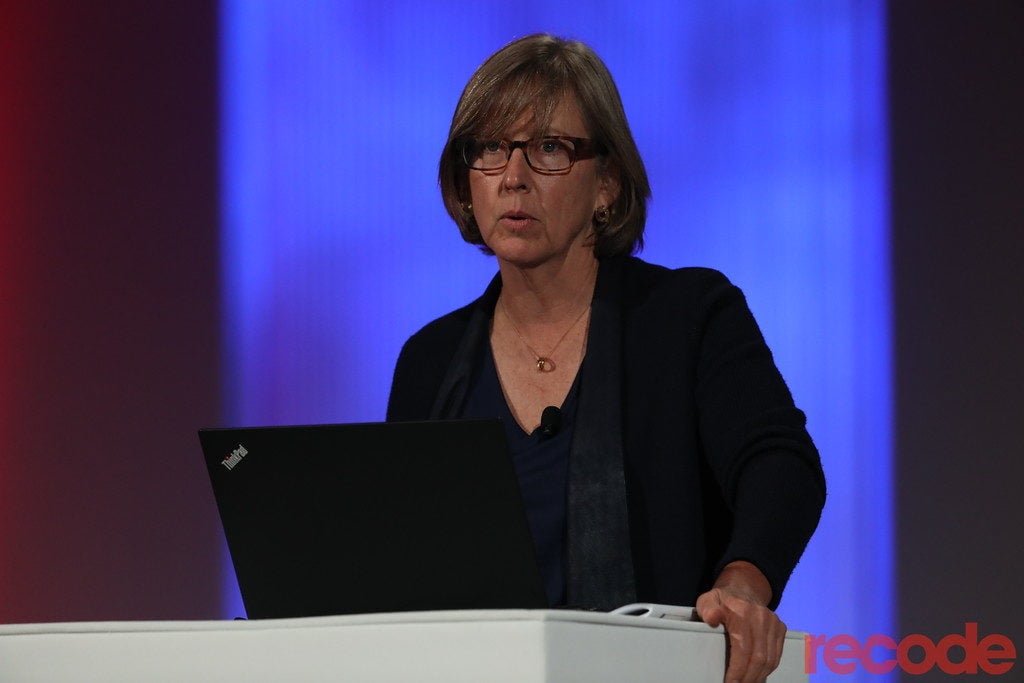 Slide 148 was my favorite. The headline: New Technologies = Job Concerns / Reality Ebb + Flow Over Time. The slide showed a series of alarming newspaper headlines from the 1920s through today. March of the Machines Make Idle Hands (1920s). A Robot is After Your Job (1960s). Will Robots Take Your Children's Jobs? (2018).
From a historical context, the concern that machines are going to take everyone's jobs has been around for a long time. "It is clear that technology is disrupting jobs," and while "not new, the (current) pace is accelerating," said Meeker, a General Partner with Kleiner Perkins.
She then turned to the question on everyone's minds: "Will technology impact jobs differently this time?"
"Perhaps," she said, "but it would be inconsistent with history, as new jobs and services are usually created around new technologies."
As we've reported often, job openings are currently at a 17-year high — 6.6 million — with huge demand in financial services and healthcare, as well as advanced manufacturing. So, while machines and robots and technology are eliminating some jobs, they are creating a new type of job that demands different skills and businesses are still having trouble finding workers with those skills.
Join the Conversation: What do you think about the CodeCon speakers' ideas about fixing the gig economy? Have your say on our Facebook page.