The economy is changing. Rapidly-accelerating innovation in technology is eliminating some jobs and creating new ones. We're seeing the workforce shifting toward knowledge-based, highly-skilled jobs and away from industrial jobs. Our workforce isn't keeping up with the changes. There are more than seven million open jobs and employers say they can't find the skilled workers needed to them.
And, as the skills needed for current and new jobs evolve, we're living longer and working longer. Consider these facts:
The average lifespan in the United States is 79 years old.
In 2010, 30 million workers were 55 or older.
Next year, a projected 41.4 million workers — one in four — will be over the age of 55.
63 percent of adults aged 60-64 still work.
40 percent of adults aged 65-69 still work.
"This is a viable talent pool that is often left untapped in too many communities."

– Jane Oates
Older workers are staying in the workforce beyond the long-accepted retirement age of 65 for several reasons, including some of them need the money and some of them just like to work. Never before have we had the need to retrain so many of our current middle-aged and older workers to ensure they have the knowledge and skills employers are looking for.
RELATED: Going the distance: How longevity will change how we work
So, how do we make sure this growing part of the workforce gets the right training and retraining to give them meaningful, purpose-driven jobs for their benefit and the benefit of society?
WorkingNation brought together nonprofit leaders for Rethinking Education as We Live and Work Longer at SXSW EDU in Austin in early March to discuss the issue. Joining me and WorkingNation President Jane Oates in the conversation were Trent Stamp, CEO of the Eisner Foundation, and Gary A. Officer, president and CEO of Senior Service America.
It was clear from the conversation there are hurdles to overcome before even tackling the idea of retraining. Chief among them is the way older adults are looked at in our society.
The overall conclusion of the panel was that the 50+ worker is sometimes seen as tech-phobic, unadaptable, or a social misfit in the work culture. What is being overlooked is the experience, knowledge, and soft skills the seasoned worker often brings with them when they enter a new job.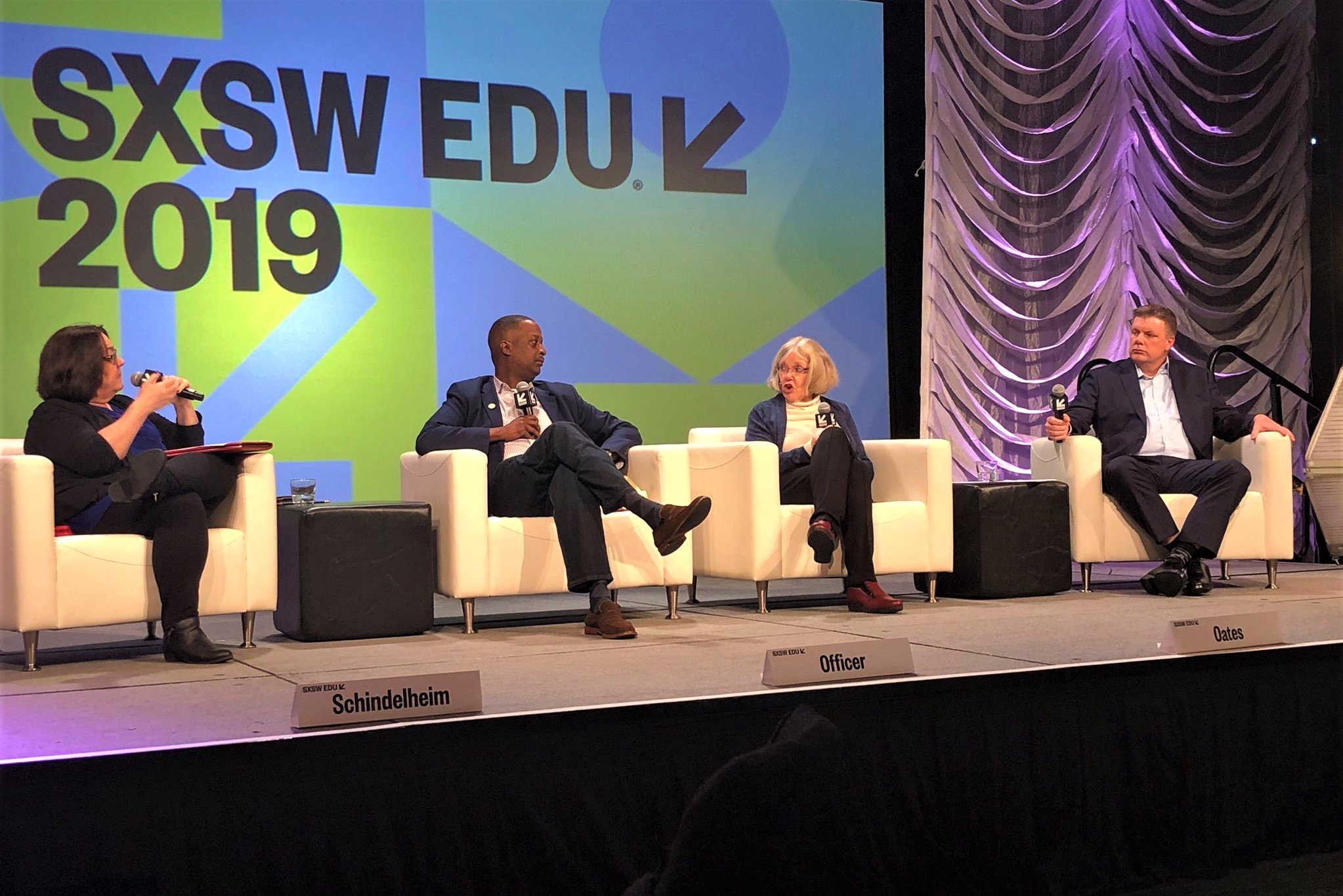 Here's a sampling of the discussion.
Jane Oates
"This is a viable talent pool that is often left untapped in too many communities, particularly communities of color. It's fine to have a 75-year-old CEO who can barely get off the chair and pay them millions and hundreds of millions of dollars, but we're aghast if we have somebody in a communication department at a corporation who is 65. We need to change that."
Gary A. Officer
"I'm amazed at the ingenuity, the passion, and the willingness to work among older Americans, including low-income Americans. I'm often shocked by the fear that many have in trying to find a place back into a workforce that is culturally unaccepting. The barrier is often inside the person in how they perceive a workforce or workplace that doubts their capacity to survive and contribute."
Trent Stamp
"It just takes a little time, and a little patience, and a little workforce development. Isn't that what we're talking about here? When you hire a 22-year-old right out of Harvard, there's a whole bunch of things they don't know how to do. But we figure it's part of our civic duty and it's good business to invest in them because even if we don't get the payout in two years, they get the payout, and the business community as a whole gets the payout. Why we're not willing to make this same investment to an older person to get them up to speed on Excel is insane. It's an abdication of our responsibility as Americans, and as employers."
Jane Oates
"I think we all need to engage very seriously when politicians at all levels glibly say, 'We have to rebuild the middle class. America was built on the middle class.' Agreed. But the bottom line is, [you need to] put funding into the reskilling and reeducation of older workers. By focusing on 50-plus workers, we are doing so much more to keep the middle class alive and healthy in the United States than we could if we ignore them."
Gary A. Officer
"You guys have a tremendous platform at WorkingNation to tell the story about the experience of work and about those who are contributors to our national economic success. I go back to barriers to access. People are hiring mirrors of themselves. When an older person goes into an interview and sits across the room from someone 20 years younger, that younger person is making a value judgment about the person across the table. 'Can I go out for a drink with this guy? Is he or she fun? Are they adaptable?' My biggest frustration in the age conversation, we talk a lot about the experience on the job, my concern from those I meet is folks who can't cross that initial threshold. That's a huge problem we face in society. That's a huge problem we face as a culture."
Trent Stamp
"I don't think any of this works unless we get past the idea that seniors are not an asset to the workforce. They bring a unique set of skills and life experiences that can enhance and intensify any work environment and bring productivity to the work environment. We look at seniors as assets, as resources, we can utilize. At the Eisner Foundation, we invest exclusively in intergenerational programs, programs that bring seniors and young people together for the betterment of the community at the simplest level. That includes things like putting a preschool inside the senior center, allowing the two groups to work with each other, and learn from each other. But it also involves a lot of mentoring, a lot of tutoring, and a lot of workforce development, trying to figure out how do we get those people 55, 60, and above back into the workforce, and primarily getting them to work with kids, and work with young people for the betterment of our society."
MORE: Educating from Experience: EnCorps brings STEM pros back to school
During the discussion, we talked about specific programs available to help older workers prepare for current and future jobs. We also pointed out some organizations and initiatives that are breaking down some of these barriers to access that all the panelists identified.
If you'd like to hear the entire discussion, you can listen to it below:
The future of work is changing. As the skills needed for new jobs being created by new technology evolve, we're living longer and working longer. There are now more people in the U.S. over 50 than there are under 18. 63% of adults 60-64 still work, 40% of adults 65-69 still work.